Trees, Shrubs, and Palms of Panama
Cespedesia spathulata (Ruiz & Pav.) Planch.
Common names: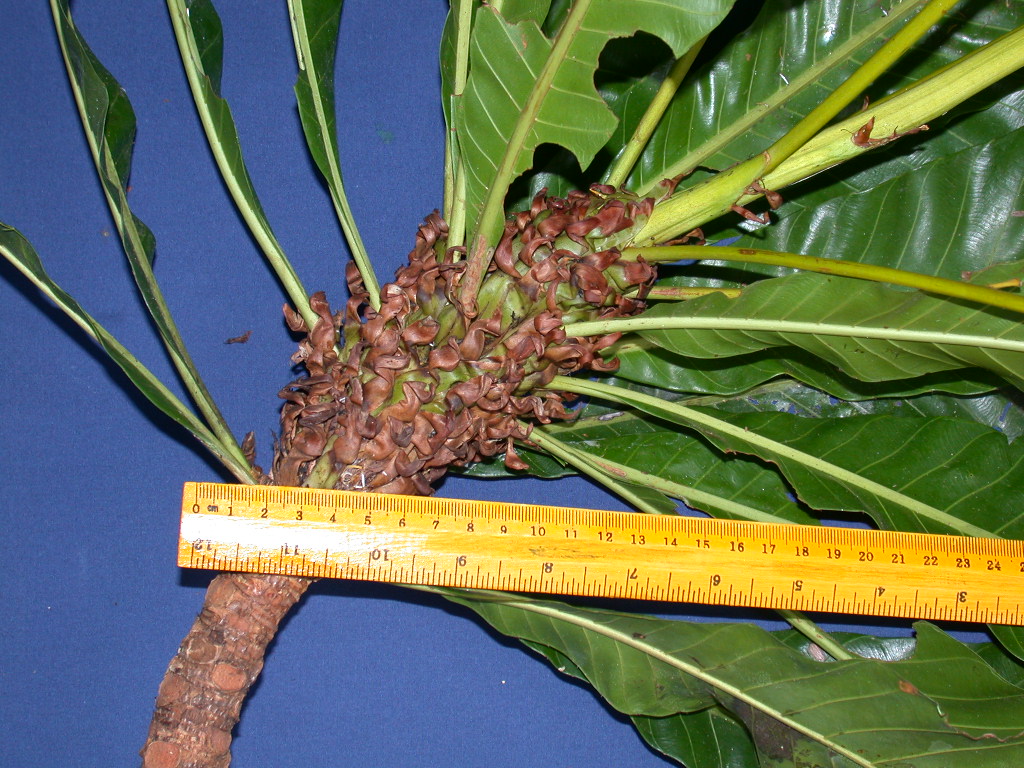 Photo: R. Pérez
Description: A medium-sized tree with very large leaves. The trunk can be unbranched, or have a few large branches that rise vertically (like additional trunks). Leaves are close to a meter long and 20-30 cm wide, narrower at the base, with a broad, rounded tip. They are tightly clustered at the top of the trunk(s), in a palm-like form. The leaf cluster is held precisely, with the upper leaves pointing upward, the lower ones downward; the leaves do not droop. New leaves are deep red, so at a distance, it looks like a tree in flower, but they quickly turn green. Look closely at the leaf underside: the tertiary veins are neatly arranged in parallel. Cespedesia is seldom seen as a juvenile.
photos: stipule... leaf-flower... leaf-flower... leaf-flower... flower... leaf... tree form... flower...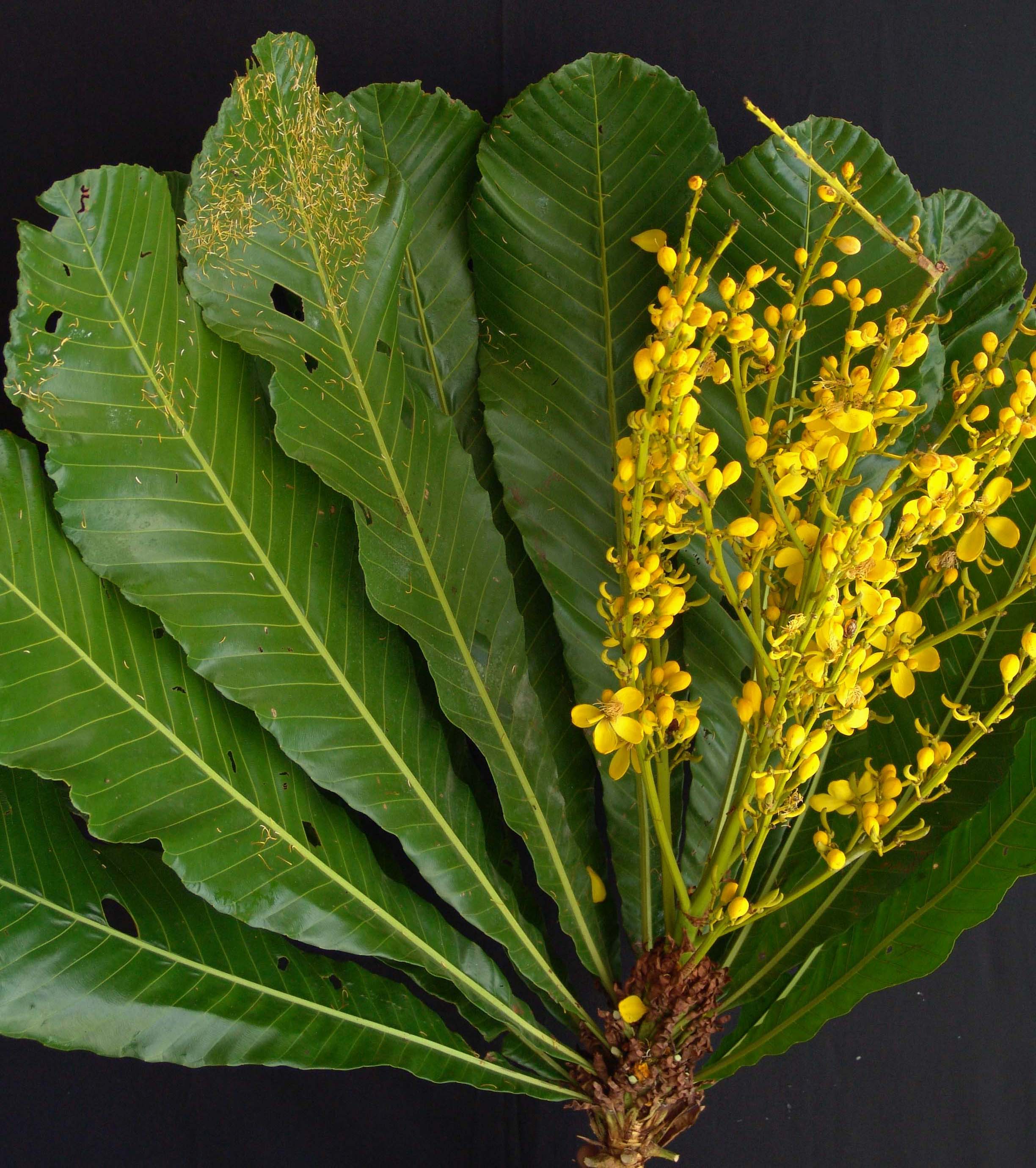 Photo: R. Pérez
Flowers and fruits: Unlike the red leaves, the flowers are brilliant yellow, and are held in spikes on top of the leaves. They are produced in July (Central Panama), after the new leaves have turned green. Fruits...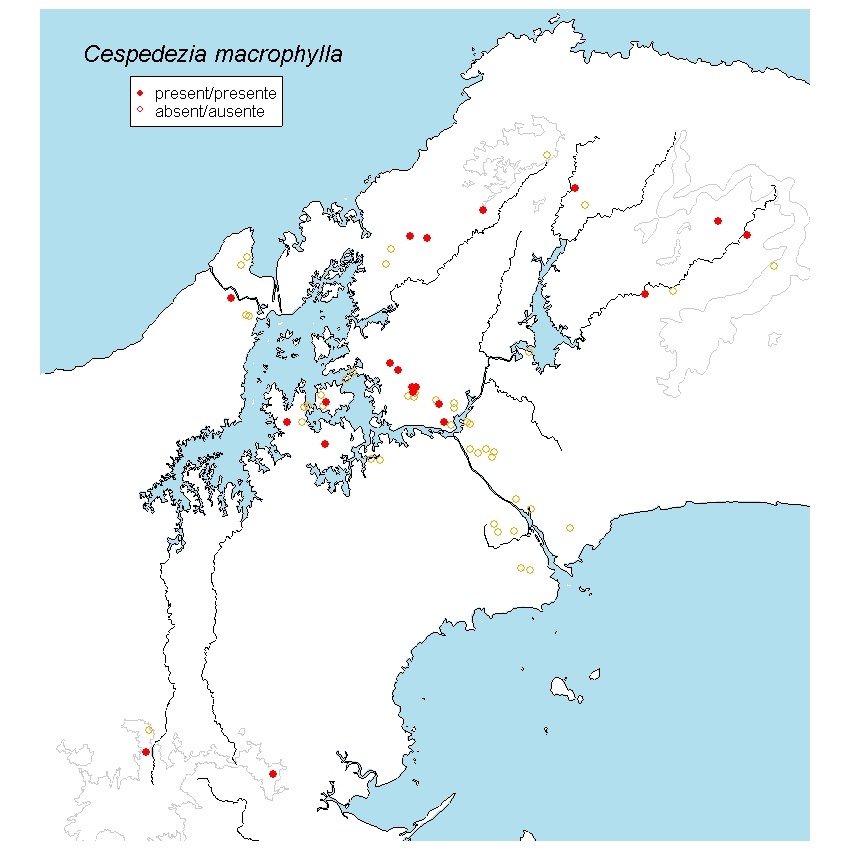 Distribution: Cespedesia is primarily a species of forest clearings and roadsides. Inside the forest, it is rare. It is also restricted to wetter areas: the Caribbean coast and lower foothills. In Central Panama, it is very common along roadsides, and its abundance can be used as a guide to the moister climates: common on outer half of Pipeline Rd. and other forested roads near the Caribbean, scarce around Gamboa, absent near the Pacific coast except on the mountains.
How to recognize: The large leaves clustered at the top are easy to recognize, except for the very similar Gustavia superba . In fact, a paper published in the eminent journal Science in the early 1970s confused the two species. The key feature is how leaves droop in Gustavia but not in Cespedesia. When leaves can be examined closely, Gustavia lacks the fine, parallel tertiary venation visible on the underside in Cespedesia. Additionally, Gustavia lacks red leaves and has completely different flowers, but that only helps occasionally, at the right time of year.
Uses: