Trees, Shrubs, and Palms of Panama
Cavanillesia platanifolia (Bonpl.) Kunth
Common names: cuipo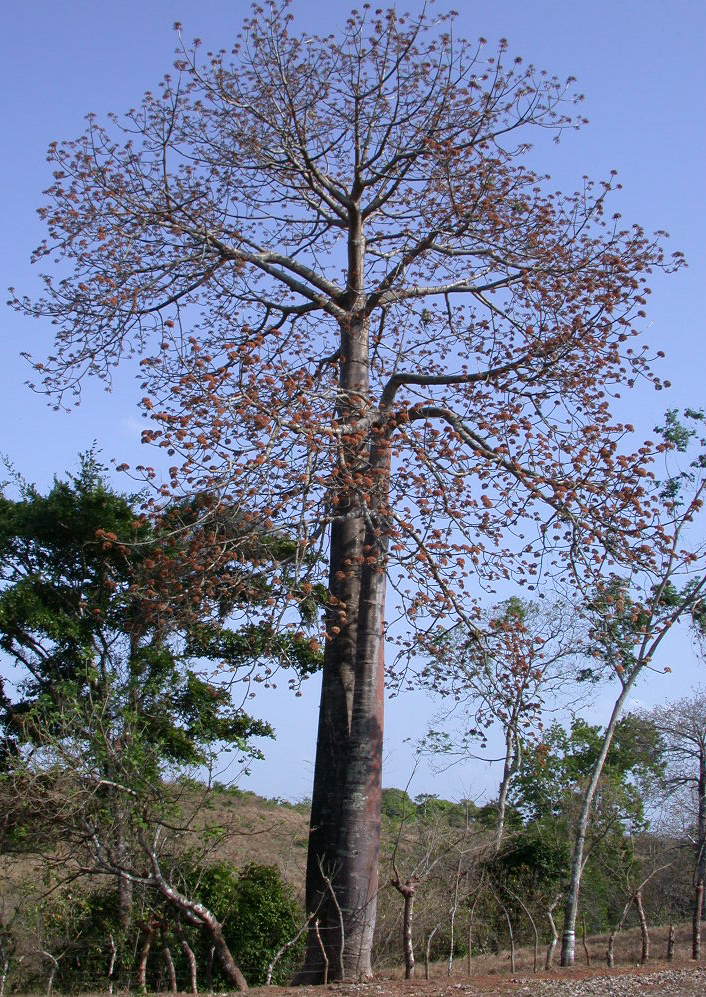 Photo: R. Pérez
Description: One of the giant trees of the area, with a bizarre trunk and conspicuous crown. Large individuals have straight trunks, without buttresses, but swollen at the base. The bark is very smooth, except for rings that wrap around the trunk every few meters. The trunk is unbranched for most of its length. The crown has a flat base and a round top. Leaves are large, almost round on adults, but on juveniles are palmate and almost square.
photos: tree form... fruit... fruit... flower... young leaf... tree form... leaf... trunk... trunk... seedling... leaf... venation... seedling... leaf...
drawings: all parts...
Drawing: R. Pérez
Flowers and fruits: This is one of the truly deciduous species in the area, typically dropping all its leaves in November, before the rains stop, and regrowing them in April or May, after rains begin. When leafless in the dry season, it produces flowers and then fruits, both of which are pinkish-orange in color; the fruits are conspicuous from a distance on large trees. They consist of 5 large wings, all semicircular, nearly at right angles to one another.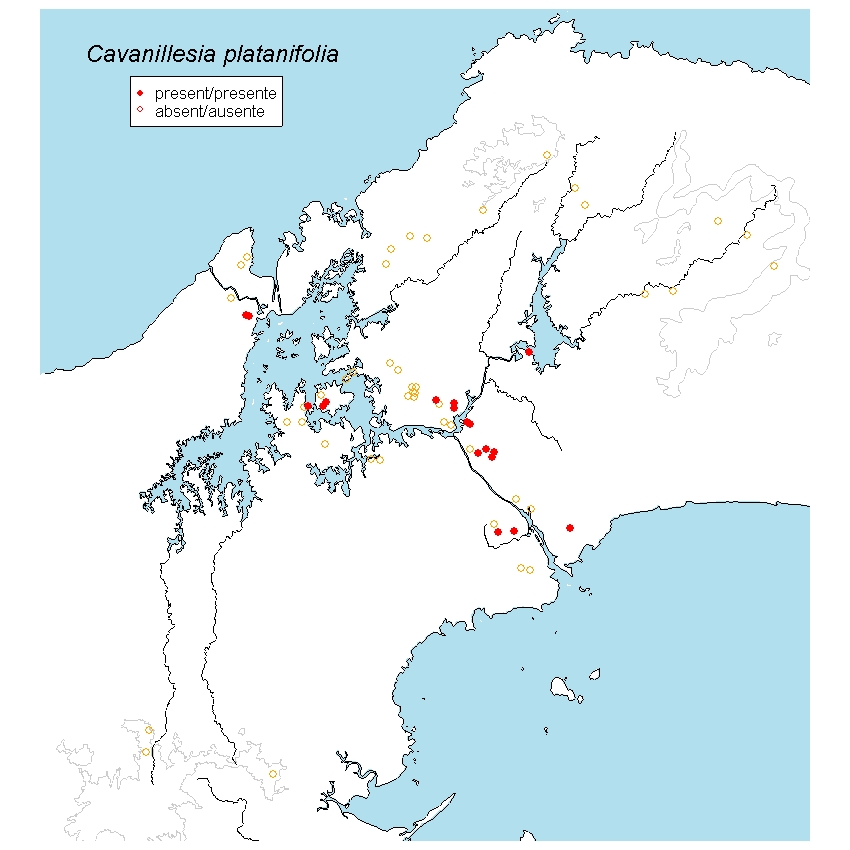 Distribution: A species of the drier regions of Panama, where it frequently associates with burssi Bursera simaruba. The cuipo is common near Panama City, but less and less numerous proceeding away from the Pacific Coast and in forests from there toward Gamboa. There are a number of large individuals in the old forest on Barro Colorado Island. It generally occurs in groups of large trees, so over areas of a few hectares to a square kilometer, it dominates the forest. But seldomly seen as a sapling anywhere. For instance, there is a group visible from the Gamboa bridge, on the south side of the river, and another on the north side of the river, visible from the Gamboa resort. On the limetone around the Madden dam, both Cavanilesia and Bursera are very abundant, and both species appear on limestone outcrops near the Caribbean mouth of the Chagres River. Unlike Bursera, the cuipo is not common in rural parts of Panama.
How to recognize: Readily recognized when larger than about 10 cm diameter from the smooth, straight, swollen trunk, with rings; generally, one doesn't even have to look at the leaves. Sterculia apetala is another large tree, common around Panama City, with a smooth, tall trunk and palmate leaves; but Sterculia lacks the trunk rings, and has buttresses. when its nearly square leaves resemble those of the balsa Ochroma pyrimidale. When leafless in the dry season, groups of cuipo are easy to spot from several kilometers away, since the crowns are large and emergent above all the trees around them, even when they don't have fruits.
Uses: